Those who come to visit the Isle of Bute will often head towards our well-known landmarks, such as Rothesay Castle, Mount Stuart and Ettrick Bay.
However, there are many 'hidden gems' around the island that you can get to by bike, and the occasional short walk. Here are a few of our favourites …
Loch Quien Bird Hide
With such an incredible diversity of bird species on the island, it's hard not to become a twitcher!
Only 200m from Scalpsie Bay car park, the Loch Quien bird hide is easy to get to by bike (around 12 miles round trip). Loch Quien is home to a variety of birds across the seasons, including Mallard, Goldeneye Teal and Widgeon, as well as Whooper Swan, Graylag and even Canada Geese.
Don't forget to take a flask and some snacks; it can be very moreish, spotting our resident – and visiting – wildfowl!
This route has some steep hills to cycle, but a Bute Bike e-bike will make easy work of this!
We recommend: On returning to the Scalpsie Bay car park, take a wander down to the bay itself, where you might catch a glimpse of the resident seal colony there. Alternatively, continue along the road and up the steep hill for a breathtaking seascape at the Seal View Viewpoint.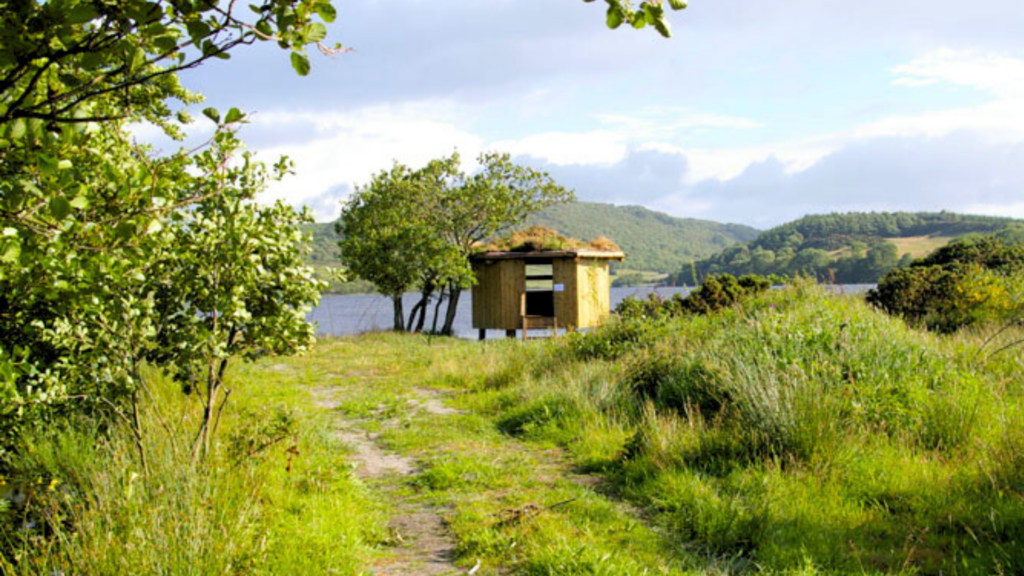 Incredible Edible Sites
Got green fingers? Why not take a trip around some of Bute's Incredible Edible sites!
The trail was developed by environmental and sustainability charity and social enterprise, Fyne Futures, of which Bike Bute is a [subsiduary]. Their fruitful work can be seen all over Rothesay with a view to inspiring people to live sustainably and take an active interest in their natural environment.
From barrels and containers of fruit and vegetables located around the Rothesay – to the garden in Union Street – there's plenty to see, and perhaps also to nibble on!
We recommend: …carve out your own leisurely cycle along the Incredible Edible trail and check out what's happening on their Facebook Page.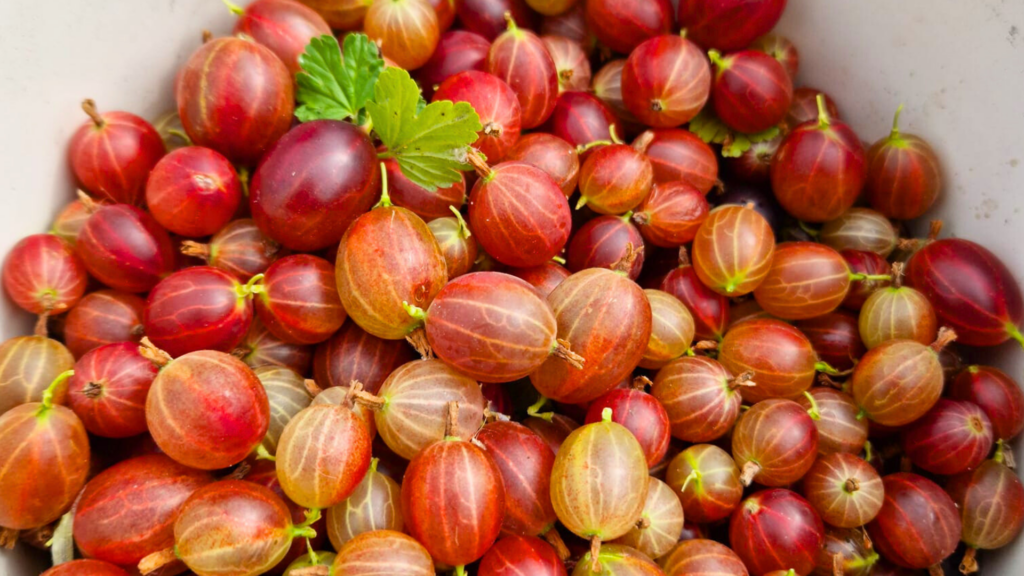 The WWII Bunker
If you are riding out to Rhubodach and would like a trek to get your heart pumping, the site of the war bunker offers stunning views across the Kyles of Bute.
In fact, the war bunker…was never really a war bunker at all! Built as a decoy bunker, it was intended to lure enemy bombers away from populated areas on the island. The bunker was, however, never attacked, and stands to this day.
Find the WWII bunker viewpoint by cycling out towards Rhubodach and taking the Balnakailly Loop path on foot. Then follow the signposts for the bunker, taking care not to disturb ground-nesting birds on the way.
Bird Hide – Ettrick Bay
This is another lovely bird hide that is easy to get to by bike, and provides a little shelter if the weather turns, as you watch out for divers, terns, little egrets, oystercatchers, curlews and the occasional sanderling.
Inside, you'll find information on birds to look out for and windows to open for a better view. The bird hide is accessible from a short wooden ramp, and your e-bikes can be left directly outside.
We recommend: For very young children who might not have the patience to twitch, this bird hide can double up as a pirate's lookout!
Hide some chocolate coins (make sure they are all found) before they go in, and have them look out for pirate ships!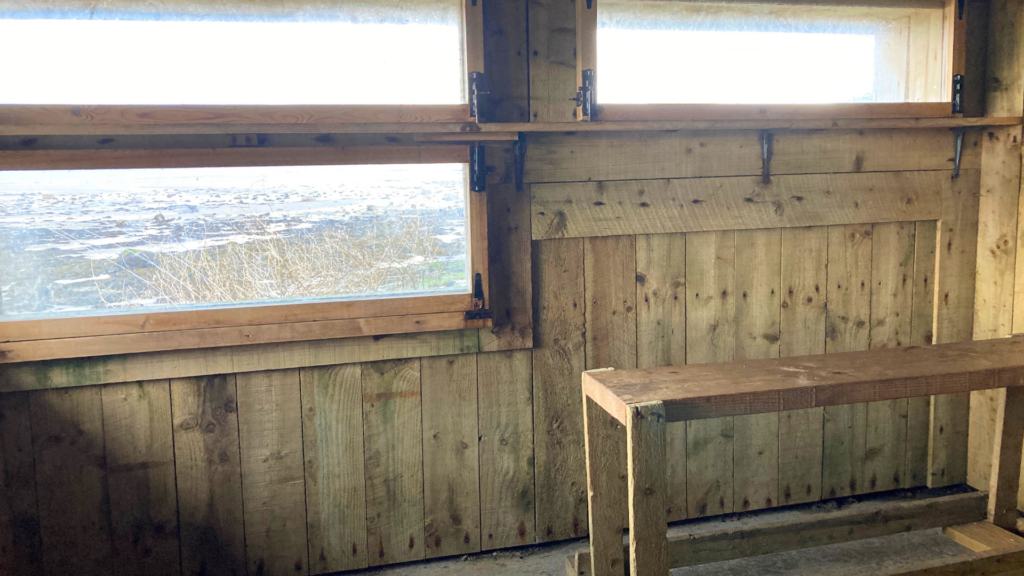 St Blane's Chapel, and 'The Cauldron'
There's a wonderful sense of peace around the area of St Blanes Chapel that words simply can't describe – so this should definitely be on your cycling list!
The site was established around the end of the 6th century by St Cattan (from whence Kilchattan Bay got its name). In fact, you can see evidence of the Norse invasion by the distinctive Viking Hogsback gravestone beside the chapel.
Within the grounds of the chapel you will also see 'The Cauldron' – a curious, walled enclosure which sits beneath a 70ft ridge.
The Cauldron has been puzzled over for many years, and is thought by some to have been a "ring-fort" of late Iron Age or Dark Ages, to keep the chief safe.

We recommend: on the way back from St Blane's Chapel, you'll see a sign for the Kingarth Stone Circle. The stones are fascinating in themselves, the recent removal of the forest that surrounded them provides an impressive view of the island.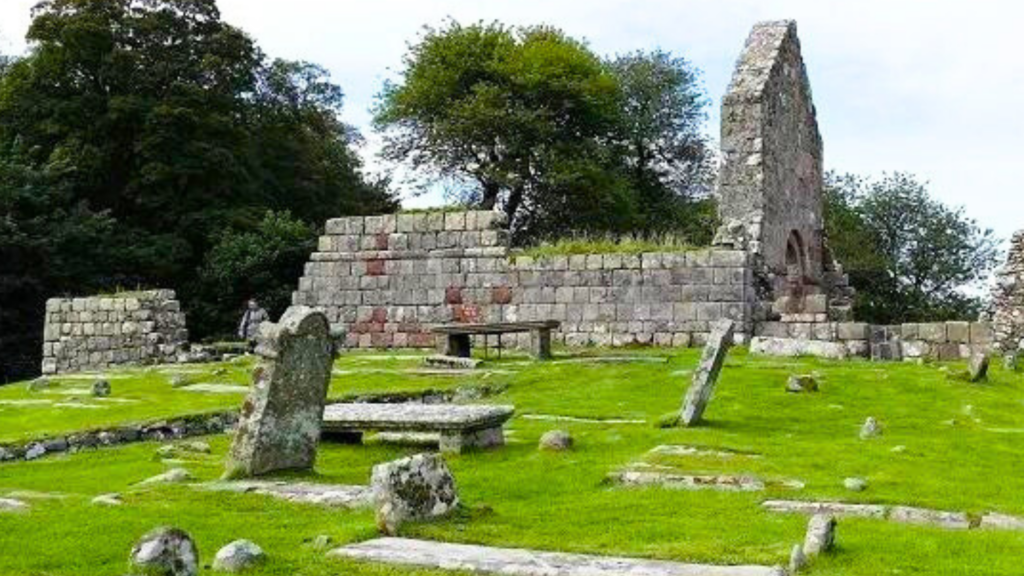 St Colmac's Stone Circle
On the way to Ettrick Bay, watch out for a stone circle on your left. This is St Colman's Stone Circle, a gathering of seven stones – the tallest of which is around 7ft high – thought to be from the late Neolithic or early Bronze Age.
The stones are easy to spot on the B875 road to Ettrick Bay – just look to your left as you approach St Colmac's Cottages, around 5 minutes' cycle from Ettrick Bay.
Bogany Point – Power station Roundhouse
What is that building? You might well wonder, as you glide past it on your e-bike!
Stop a while and take a closer look.
This remarkable roundhouse structure is actually Bogany Point, a waste-water pumping station constructed back in the in the 1930's for the influx of holidaymakers – often from Glasgow – who would come to Bute during the Summer.
On a sunny day, it's the perfect place to stop, enjoy the view and have your 'piece' (Scottish for sandwich!) before heading on towards the sandstone bay at Kerry Croy, and up towards Mount Stuart.
You'll find some information at Bogany Point about the station, or watch this short video about it as part of the Scottish Water restoration project.
Moss Wood
One of the most magical places on Bute, Moss Wood is, true to its name, a moss-covered alder and birch forest that children and adults alike, delight in exploring.
An easy half-hour cycle from Port Bannatyne in the direction of Rhubodach, you'll find the entrance to Moss Wood signposted on your left.
There, dotted around the woodland poetry trail are thoughtfully crafted poem plaques, which urge walkers to stop and reflect.
Handmade nature decorations hang all around, and carved wooden structures are hidden amongst the trees to be found and enjoyed.
As well as picnic tables and barbecue areas, you will also find a temporary shelter, housing various nature activities that Brandanes and visitors are involved in.
Whatever sites you choose to explore on Bute, make sure Moss Wood is one of them!

We recommend: Check the Bute Community Forest website to find out what events may be on during your visit.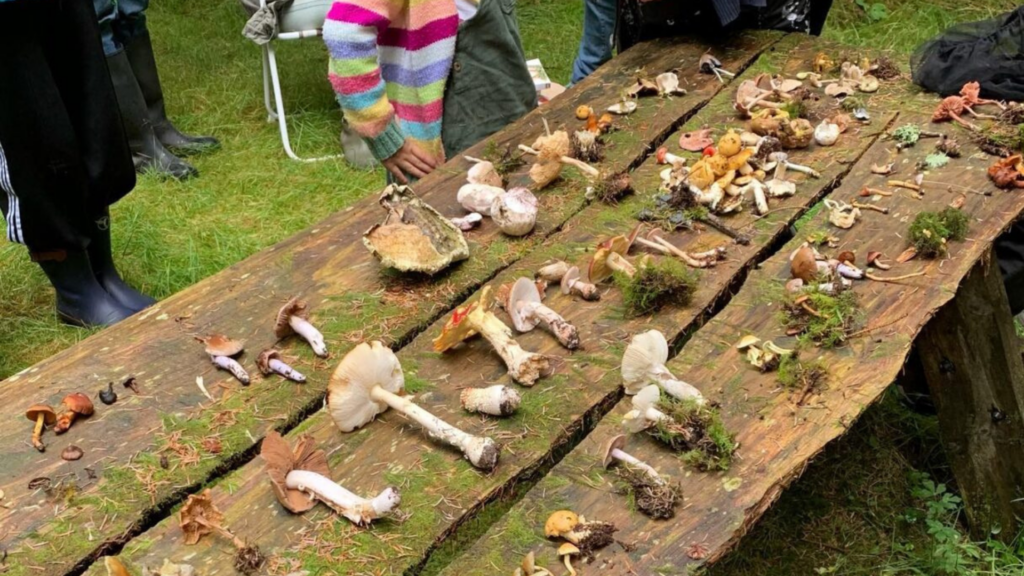 Glecknabae Coves
Just past Ettrick Bay, and hidden just feet away from the laybys along the road to Glecknabae, you'll find many little sheltered beach spots, known on the island as 'the coves'.
Many have huge boulders of slate, phyllite and mica-schist, worn by thousands of years of tidal movement, with a plentitude of rock pools for curious children!
If you continue on the path after the parking place at the end of the road, you'll also come to a beautiful white beach 'shelf' which gives amazing views of the East and West Kyles of Bute.
Watch out for the sheep, which can sometimes be found munching the grass on the banks!

We recommend: On cycling back from this peaceful route, stop at Ettrick Bay, where you'll find a beautiful stretch of beach with views to Arran – and a tearoom, known for its delicious cakes…
Kilmichael Chapel
If you're a history enthusiast and can make the uphill trek by foot, the ruins of Kilmichael Chapel (St Michael's Chapel) are worth the visit. Kilmichael Chapel is an early Celtic Christian site on the northwestern tip of Bute, north of Glecknabae.
Whilst relatively little remains of this 5th – 7th-century chapel, the view across the Kyles of Bute are quite stunning. (You might also see the Waverley passing by if you're lucky!)
This chapel ruin stands on an open hillside with views across the Kyles of Bute to Tighnabruaich and Kames on the opposite shore.
You'll also find a burial ground, just outside the chapel ruins.
This cycle ride is a 15m round trip from Rothesay town centre, in the direction of Ettrick Bay. From the Glecknabae car park, Kilmichael Chapel is an uphill, but manageable 2-mile walk.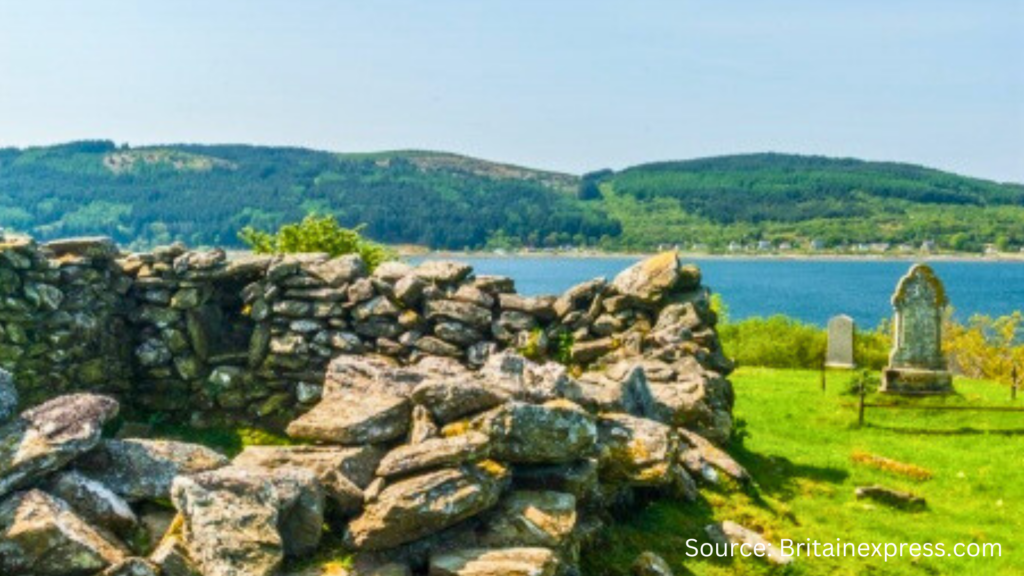 Canada Hill
Canada Hill is so named, as the place from which Brandanes would watch their Canada-bound loved ones sail away into open waters. It offers breathtaking views across the Kyles of Bute and Dunoon, and is a beautiful cycle.
But there's more! To get to Canada Hill, you must first take the challenge of the Serpentine – a short road with 14 hairpin bends!
As a circular route, you may choose to go up it or down it – either way, it's a great cycle which can be made comfortably on a Bike Bute e-bike!
We recommend: there is a small bench at the top of Canada Hill – the perfect place to stop, enjoy the views, and perhaps a flask of your favourite hot beverage!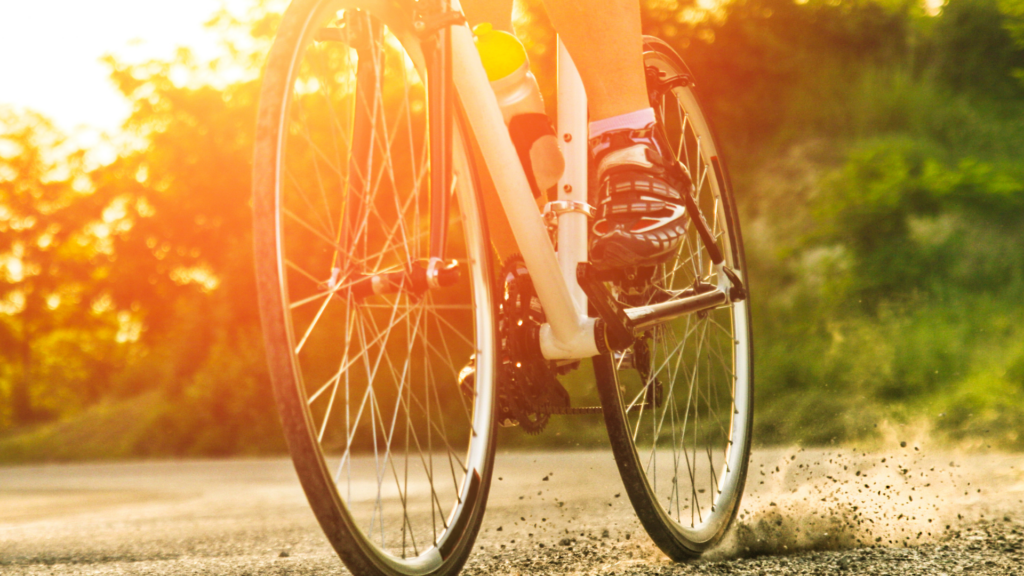 The Isle of Bute is a wonderful place to visit, however you choose to explore it – but we think cycling is the best way to see all that it has to offer!
Want to find out more? Plan your cycling excursions by checking out the Bute walking and cycling map – and remember to book your Bike Bute e-bike in advance of your visit to avoid disappointment!